About Wings of Mercy
In June 1991, a group of committed and compassionate pilots met in Holland, Michigan to organize what became Wings of Mercy, Inc. The purpose of Wings of Mercy is to offer air transport at no cost to financially needy persons from the Eastern Michigan who require specialized medical treatment at distant medical centers.

Early on, it became clear that the need was far greater than expected.
Based on experience, upward of 80% of our clients would not be able to receive specialized medical treatment if our service was not available.
Newspaper, radio and television coverage helped to expand the service. Soon other aircraft owners volunteered their aircraft at locations throughout Western Michigan.
Growing Stronger: Wings of Mercy East Michigan is Formed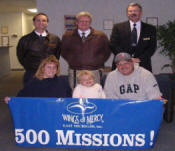 In early 1996, another group of committed and compassionate pilots in the Midland-Saginaw-Bay City Michigan area contacted Wings of Mercy for assistance in organizing a group to provide similar services for the residents of Eastern Michigan.
This effort grew into Wings of Mercy East Michigan.
How it Works
All services are performed by volunteers. Aircraft owners/operators are reimbursed for fuel only (which represents only about 1/3 of the actual cost of operating an aircraft), and many refuse even that.
Wings of Mercy East Michigan is funded entirely by charitable contributions. Since there are no paid staff, 100% of donations fund operations. Overhead for Wings of Mercy is confined to fuel reimbursements and direct office expenses for mission management (phone/fax, postage, paper, etc.)
Wings of Mercy does not compete with commercial airlines, which our patients/clients cannot afford, or with air ambulance services, which are reserved for more critically ill persons.
---
A Successful Team
Currently, there are three Wings of Mercy chapters in the United States. They include:
Wings of Mercy Eastern Michigan
---
Missions Map

View Wings of Mercy East Michigan in a larger map
What We've Done--Summary of Missions
1996 to Date
1994 Missions

Total Miles Flown: 1,272,800+

(Over 51.00 Times Around the World for our Recipients!)
304 Recipients Assisted
136 Michigan Cities Served
127 Volunteer Aircraft
117 Volunteer Pilots in Command

216 Volunteer Second Pilots
Michigan Communities Served by Wings of Mercy East Michigan
Wings of Mercy East Michigan serves an area of approximately 5000 square miles, including the following Michigan communities:
Alger

Allen Park

Alma

Alpena

Ann Arbor

Apple Gate

Bad Axe

Bay City

Beaverton

Birch Run

Brighton

Burton

Caro

Caseville

Cheboygan

Clare

Clio

Coleman

Croswell

Davison

Detroit

Elsie

Essexville

Flint

Fraser

Freeland

Gladwin

Glennie

Goodrich

Hale

Harrison

Harrisville

Imlay City

Johannesburg

Kawkawlin

Laingsburg

Lake Isabella

Lansing

Lincoln Park