Pilot's Information Page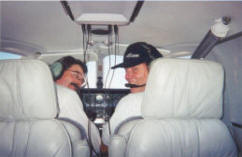 Wings of Mercy East Michigan fosters charitable medical flights by matching medical patients in financial need who require free air transportation to distant medical facilities with volunteer pilots and aircraft owners willing to donate their time, themselves, and their aircraft.
We do NOT dispatch aircraft, nor do we compete with the airlines, air ambulances or charter operators.
SAFETY IS ALWAYS PARAMOUNT!
Pilots are ALWAYS the FINAL AUTHORITY on whether a mission will actually fly on the day coordinated.
Watch this short video produced by our sister organization, Wings of Mercy West Michigan to
see what it means to be a Wings of Mercy Pilot:
http://tinyurl.com/WingsOfMercy-3min
Click here to learn more about our requirements for becoming a volunteer pilot with Wings of Mercy East Michigan.
Register as a volunteer pilot or aircraft owner to receive email notification of open missions
Wings of Mercy Online Store
Show off your membership in Wings of Mercy!
Dress like the professional you are.
CLICK HERE to go to the Wings online store
Current Wings of Mercy East Michigan pilots can find helpful web links for flight planning, weather, and airport data here.